For Sale By Owner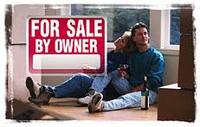 How's your Curb Appeal?
· Paint the front door and anywhere else that needs it
· Remove Clutter - Have a garage sale and haul away what's leftover.
· Repair visible damage
· Tidy-up your landscaping and remove any eye-sores.
· Sweep the front steps and entryway.
· Be aware of the curb appeal of the homes in your neighborhood.
· Be aware of which days of the week the neighborhood has less desirable appearances (example: trash pickup day).
Interior
· Get rid of clutter in hiding spots! People will look behind your doors, in closets and crawl spaces. Get rid of dead plants, too!
· Clean the carpets or replace worn out carpet.
· Correct any cosmetic flaws.
· Re-grout tile walls and floors.
· Replace dated faucets, light fixtures, and the handles and knobs on your kitchen cabinets.
· Pack anything you won't use between now and moving day. Store the boxes away from high traffic areas.
Sell! Sell! Sell!
· Get rid of those antiques and collectibles that are packed away.
· Clean out those clothes the kids have long outgrown
· Become an Ebay enthusiast!
Brighten the environment
· Clean the windows and other glass.
· Paint rooms that need it.
· Polish fixtures.
· While selling, switch low wattage light bulbs to high wattages and turn on all lights even for daytime showings.
· Keep kitchen sparkling. Keep counters clutter-free.
Don't move completely out
· Statistics show that vacant homes are harder to sell. They lack warmth and "homeyness" and are un-inviting
· You're sending the message to the buyer that you have another home (and probably mortgage) and are motivated to sell fast. This gives the buyer an advantage at the negotiating table.
· On the other hand, too much furniture looks very cluttered and makes rooms appear smaller. So, find that happy medium that looks pleasing.
Get an appraisal
You don't want to price your home too high or too low. A real esate agent will compare your home to other homes that have sold in your area and will help to predict a real good idea of the value of your home. This is a good starting point. Combined with the following steps, you should have a realistic listing price that is reasonable and competitive. You will also have made your first contact with a reliable real estate agent who can list your home for you if your own efforts don't result in a sale.
Conduct your own research of neighborhood homes
· Get flyers of area homes to compare to yours (FSBO's and Real Estate Agent's). Find out what kind of successes and failures they've had.
· Pick up local real estate books to find properties for sale in your neighborhood
· Use online market tools that pool information from databases to determine what homes are for sale in your neighborhood and zip code.
Additional Costs
Consider the costs of selling your home (or preparing your home to sell) such as improvements, repairs and advertising.
Test the Waters
It's critical that your home be competitive in price. Buyers do comparative shopping and act fast on a good deal. A well-priced home will attract attention and generate activity from home buyers and brokers. If you aren't seeing any traffic from buyers, it is a clear indication that the listing price is not satisfying the marketplace test.
Leave room for negotiation
Buyers like to know they are getting a good deal. If you list your house for $250,000 and refuse to negotiate an offer received of $245,000, your potential buyer may not feel that you are a willing participate in this (hence the term) "negotiation". If $250,000 is your goal for this sale, set your price at about $260,000 to $269,000. If you are negotiating a contract and come down to your desired price of $250,000 - then you are happy and the buyer get's a warm fuzzy feeling that he got a good deal.
"For Sale by Owner" yard signs
The big red ones you can buy at Home Depot or Lowe's are the best. Everyone easily recognizes this sign. For highest visibility, use the big red "For Sale by Owner" signs.
Flyer box & flyers
It's very important to have flyers. When you upload your listing information, just print these pages to use as your flyer if you don't have flyers already. Post your flyers on work bulletins and local supermarket bulletin's. Many homes have been sold with this simple effort. Your buyer will be glad you did it too.
Internet Marketing
Take advantage of the Internet. Last year, 35% of real estate sold was located on the Internet and each year, this statistic gets higher.
Newspaper ads
Print ads are usually expensive, but they can be an effective tool in selling your real estate.
Bulletin Boards
Post your flyer on every bulletin board you know of - grocery store, your job, universities, your church and gym.
Open House
Instead of showing your home each time someone calls and wants to see it, pick one day each week and a specific time (a couple of hours) that you know you'll be home and schedule to show your home at that time. Post this time on a pre-recorded message for when you are away from the phone. Once a month, schedule a formal "Open House". Set snacks out on a table with full-color flyers. Put up big red "OPEN HOUSE" signs and advertise the open house in the local newspaper.
Word of Mouth
Tell your friends, fellow employees, relatives and members of groups you belong to. A lot of times people haven't given much thought about pursuing a second home until they find out that your home in a very ideal location has become for sale.
Mortgage
Figure out how much income a buyer will need in order to qualify for a mortgage on your home.
Know your buyer
Find out what is motivating the buyer. Has their lease expired? Do they need to move quickly? Learn to ask people about their finances before you begin negotiations. Don't entertain buyers who could never afford your home. Research their financial security. Ask about their job. Otherwise, you are just wasting everyone's time. But don't give away too much information about yourself. Don't let the buyer know that your job is relocating you 500 miles away or that you can't buy that beachfront home until you sell your current home.

Phone Calls
Watch out for callers who ask if you'll take no money down or carry the mortgage, especially if they don't seem to be interested in the amount of square footage in the house or other important information. They may have credit issues. If they don't have a pre-qualified mortgage, you may find yourself tied up for months in a contract that eventually goes nowhere.

Passersby
Don't admit a stranger who knocks on your door into your house. Insist on an appointment time and as a safety precaution - a phone number, so you can "Call to confirm the appointment."
Understand the Contract
There are many details to discuss before a sale can be considered final: price, inspections, closing date, possession date, buyer concerns and objections. Make sure you fully understand the contract you are using. Put all terms that were verbally negotiated in the contract. This will protect you and the buyer.

Title Company
Select a Title Company with experienced real estate lawyers who can act as an escrow agent to hold the down payment, evaluate complex mortgages and/or leases, review contracts and finalize your home's closing process. Their fees are usually a couple hundred dollars and their service and experience are invaluable.
Feeling Overwhelmed?
Acting as your own real estate agent is not for the faint of heart. There are lots of details; "i's to dot", "t's to cross" and laws to be obeyed. Would you even consider acting as your own lawyer should you go to court some day? Hiring a real estate professional to represent you and market your property could be the best investment you've ever made. Consider all your options before you make a decision. You may discover that selling your home yourself is not for you. Click here to get in touch with Realtor, Bob Tettman, if you would like to talk about having him market your home for you!
Good Luck In Selling Your Property!